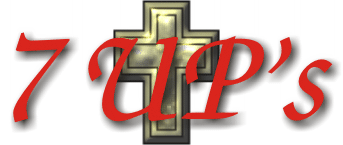 Dear 7uppers

I Hope and Pray all of you got to read last week's GOSPEL OF JOHN 4:5-42. WHILE IN THE DESERT FASTING AND COMTEMPLATING I WAS ABLE TO CLEARLY SEE THE WORDS GIVE ALL BOTH the NON-CHRISTAINS AND CHRISTIANS THE THE TRUTH TO KNOW GOD THROUGH JESUS CHRIST AND TO WORSHIP OUR GOD IN TRUTH AND SPIRIT IN PRIVATE READING THE E-MAIL LESSON , 7UPS MEETINGS AND ANYWHERE YOU TAKE THE TIME TO SEEK HIS LIVING WATER FOR LIFE ETERNITY. MAY GOD CONTINUE TO BLESS US ALL AND HOPE TO SEE OR HEAR FROM YOU SOON.

LES FASTING IN THE DESERT.
My Path to Eternity or Living Life Eternal Now
Greetings to people whom search for truth. We believe in one God, the Father Almighty, and Maker of heaven and earth and of all things seen and unseen.

This paper is by Les Washington based on my personal experiences at BSF (Bible Study Fellowship) @ Dunwoody Baptist Church, United Methodist Church/Dunwoody United Methodist Church, The 7 UPS Men Fellowship Group (Dave Woodward, Bryant Hodgson) @DCC, Fr. Vessels St. Ignatius House/St. Judes Catholic Church, Servite Fr. Peter M. Rookey, O.S.M., Dr. Thomas Thangaraj, friends Diane and Ted Kennedy. Also, my brother in Christ, Ralph Freeman of Song Ministry. Interestingly, my insights seemed to intensify after my conditional Catholic Baptism by Fr. Neil Jarreau on my birthday -- exactly three years to the day from my first thoughts on the following matters. Recently James D. Hedges, Major, USAF helped me understand the differences between the Bible and the Koran. Most recently Jonathan Montaldo helped me in a retreat at St. Ignatius learning more about Thomas Merton writings. This year in 2005 Irag confirmed the light showing the differences in the Koran and the Bible. More than ever God is asking us to reach out to people of other religions to have fellowship and some thoughts of "Doing unto others". We will try to come together not to pray together but in silence each of us pray to OUR God and just listen. My hope and prayer is we make this happen during 2006, well maybe in 2008. During 2007 I came to realize from my thoughts during a DCC meeting of 11/2/07, where Gholam A. Rezaei-Khosravi (Alex) shared thoughts that even the Devil was made by God and perhaps even he may be part of His Plan as man is tested with free will to make choices that will provide us through Him with life eternity and Glorify Him through our faith. May God have the Glory Forever and Ever. I certainly know less and less as I continue to approach knowing God through My Personal Savior Christ Jesus. As I know less, I become more zealous for Christ Jesus and want to give everyone a Penny Cross. I am proud that all phases of my business connections with SunMar now Seven Industries Inc., Telechem and 7ups Inc. are all represented by the Penny Cross, In God We Trust, Praise God. (My thoughts as of 11/7/07)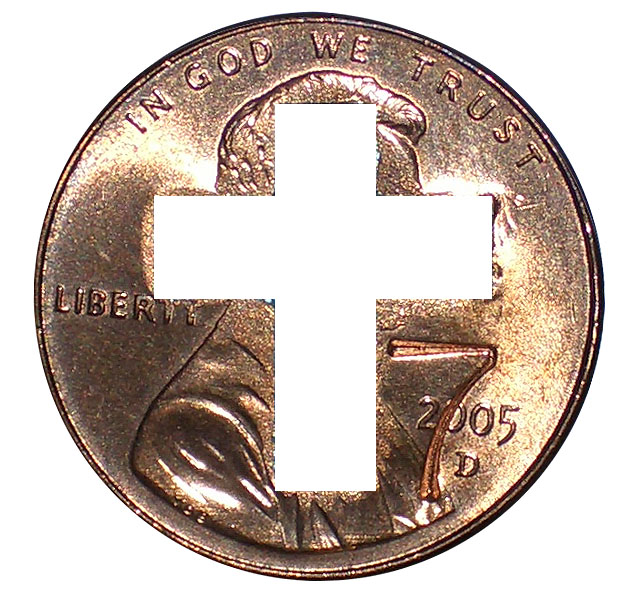 I have a personal relationship with Jesus Christ. He certainly has been my way to think about eternity, my truth and light. I worship and pray to God the Father, God the Son and God the Holy Spirit. Our Lord is the good news for all that seek God's plan for them, their family, their friends and their neighbors. Jesus Christ came to save not judge until the Father calls Him to return.

It is also, our charge to reach out to others to KNOW JESUS CHRIST AS THE SON OF GOD OR AS GOD WHO CAME DOWN FROM HEAVEN TO BECOME MAN WITH THE POWER OF THE HOLY SPIRIT. We do not judge when He will come or make His decision on who will be with Him for all eternity, in fact only the Father knows when and whom from Jn.6:65 He went on to say, "This is why I told you that no one can come to me unless the it is granted him by my Father."

Certainly, none of us should judge who is saved but by God's will through our Lord Jesus Christ who will judge us all... Maybe all of us should look forward for what we will be doing for all eternity. As Christians, we know our hope is for salvation by His Grace. We should reach out to all that believe in a creator and strive to agree on loving Him and Our Neighbor. This thought should inspire most of us to dwell on the positive aspects of our religion, our country, our community and our homes. So far in 2004 has me learning that we are all handicapped to some degree and look for what lies ahead. Certainly none of us not one reaches perfection as our Lord did. As all of us get older our mental and physical state is somewhat handicap. We are to love one another and we can certainly learn from each other if we can learn to share our spiritual thoughts. Recently while being part of a bible study with handicap children (18-21) of FEA I learned that spiritual thoughts which they shared were rich and certainly a sense of God that many of us miss and don't often share. Therefore I will direct 7ups to be part of the Universal Churches of the Handicap, as all people of the world could be part of this type of sharing. There must be some of God in all of us, since we are created in His Image; a view shared my friend John Patrick of Africa and we are all at least spiritually handicapped.

We are a world of over 6.4 billion people with most Christians, Jews, Hindus, Buddhists, Muslims and over 1001 others organized religions believing in a source of truth, a creator, a God of the Universe. We should be looking for the good in each of us as light coming from our spiritual source, a common ground, and a common plumb line on which to build. Those of us sharing some common beliefs need to connect with each other to know this God of Truth better and to be in the world that fits within His Plan. It is all for His Glory

I feel I have been blessed indeed and given some special thoughts that provide for my positive view of life and eternity. Before I begin, I'd like to share this poem with you from the "Book of Virtues" by Bill Bennett. On page 66, the poem "Truth and God's Light is Eternal Truth Never Dies" is inspiring in its assertion that truth is eternal, but perhaps more valuable is its reminder that truth must be "caught and handed onward by the wise." Truth must be "passed from friend, from teacher to student, from parent to child and from grandfathers to family"

TRUTH NEVER DIES

Truth never dies. The ages come and go.

The mountains wear away, the stars retire.

Destruction lays earth's mighty cities low;

And empire, states and dynasties expire;

But caught and handed onwards by the wise,

Though unreceived and scoffed at through the years;

Though made the butt of ridicule and jest;

Though held a loft for mockery and jeers,

Denied by those of transient power possessed,

Insulated by the insolence of lies,

Truth never dies.

It answers not. It does not take offense.

But with a mighty silence bides its time;

As some great cliff that braves the elements

And lifts through all, storms its head sublime,

It ever stands uplifted by the wise;

So truth, unwearied, waits the era blessed

When men and women, shall turn to it with great surprise.

Truth never dies.

We all know God is Truth and the source of Truth and each of us should seek it. It will be six years this November 7, 2004 since my thoughts came to me at St. Ignatius while studying the scripture one Wednesday morning with Julie and Rod Wells. One thought was about marriage, people of religions that believe in one true God and about our own hope for salvation. The consensus was that marriage is a unique early-human experience and we should make it all we can. . God willing (and my wife Barbara continuing to put up with me!) our marriage will make 47 years June 1, 2004. . The other thought was that we who know Jesus and can start to live Life Eternal now with Him. I agree with my Brothers in Christ who think and preach there is only a narrow path to God. Those His Grace is sufficient for all and He will be judges when, who and how. Keep in mind we worship a God outside of time, a God that exists before the world was created. In both the OT and the NT the references is One Day of the Lord is as a 1000 years, therefore all has happen in less than a week of our Lord's time. First, there are those passing "through" to the Son of God, which includes all who may know the Son of God now, as well those who are yet to come to know Him. Then, there are those who have not known Jesus in this life who may see Him in the final Day of the Lord, the great resurrection and therefore could go "through" Him to be with the Father in Heaven at that time.

In Oxford Bible, John5:28-29 , Jesus said " Do not be astonished at this ; for the hour is coming when all who are in their graves will hear his voice and will come out-those who have done good, to the resurrection of life, and those who have done evil, to the resurrection of condemnation." Just think of it, Our Lord can speak to the dead and they hear his voice. This concept could explain what may happen to our Jewish Brothers and many others who believe in one God. For example, in John Chapter14 we can see that even the Disciples had trouble understanding where Jesus was going in His relationship with the Father - a clear example that leads us all to at least think about the many ways to follow Jesus. In other words, we can go the ordinary way direct to Him now or wait for the extraordinary way only God knows. I know that the extraordinary way is probably more of a risk and but with God all things are possible. I feel that we must try to reach out and stop postulating that because we feel that we know religion every step of the way and if a person does not fit our mold they cannot go where GOD is.). Further, I have learned from Father Rookey and agree that we are given sufficient grace to be saved if we have a humble-sincere heart at death. In John 6:44 most translations say, "No one comes to me unless the Father who sent me draws him, and I will raise him up the last day." We cannot know all that our GOD may call or draw to Him. It is the purpose in this paper to better relate, facilitate and encourage people of "TRUTH" to meet The Son of God NOW -- but I truly believe the risky and more difficult time period may also exist.

My God has lead me to want to help others find the way to God. This idea is the start of my thoughts of how we can better reach out. Beginning with the promise in Jeremiah 33:3 (The Oxford Bible): "Call to me, and I will answer you, and will tell you great and hidden things that you have not known." I feel God has given me a thought from His Holy word that will help to unite His Church and it is possible for it to be over 5 billion strong if it's okay to be a Hindu and know Christ, a Jew and know Christ or a Muslim and know Christ and some do. I must be careful hear because of the on unforgivable sin is blaspheme of the Holy Spirit a total rejection of our Lord. But here again our Lord decides... People of other religions that believe in one God can be, for example, be searching for Truth just as I am searching for Truth.

Thus far in our History and for whatever reason, few Jews and people of the other religions have recognized Jesus as the Son of God. Ghandi represents others in quite a profound way. In Mother Teresa's Book "In My Own Words" she wrote Ghandi was excited hearing about Jesus, but once going out and meeting Christians was disappointed. He went on to say if Christians better reflected Jesus there would be no Hindus in India.

As a Priesthood of All Believers (Foundation of most churches who believe in a personal relationship with Jesus Christ the Son Of God), we all need to look at what's good in our Churches and Love each other. We should make every effort to relate to all people of other Religions, since we may be the problem for the Gandhi's of the World. Listening and learning with dialogue could help facilitate knowing the Peace of our Lord.

As Christians, our Commission is to make Disciples baptizing them in the name of the Father, the Son and The Holy Spirit". We should try to connect with them through true dialogue and allow the Holy Spirit to do the rest. We will always fall short, but if we can get people to look to Jesus we have a better chance. Certainly if we would start reflecting His Light and let Him shine in us we would even have a better chance.

The choice is each person's to make. If a person makes no choice to know either God the Father, The Son, or The Holy Spirit, then he will be void of God for all eternity. It is man's final rejection of God that is Blaspheme of the Holy Spirit and man's decision to be void of God, thus never being able to have the Holy Spirit say Jesus Christ is Lord and part of the Trinity. Personally, I like this explanation of the Trinity the best from the

New Seeds of Contemplation on the Trinity by Thomas Merton

God in His Trinity of subsistent relations infinitely transcends every shadow of selfishness. For the One He subsist as Father and as Son and as Holy Ghost. These Three Persons are one, but apart from them God does not subsist also as One. He is not Three Persons plus one nature, therefore four! He is Three Persons, but One God. He is at once infinite solitude (one nature) and perfect society (Three Persons). One Infinite Love in three subsistent relations.

The One God Who exists only in Three Persons is a circle of relations in which His infinite reality, Love, is ever identical and ever renewed, always perfect and always total, always beginning and never ending, absolute, everlasting and full.

In the Father the infinite Love of God is always beginning and in the Son it is always full and in the Holy Spirit it is perfect and it is renewed and never ceases to rest in its everlasting source. But if you follow Love forward and backward from Person to Person, you can never track it to a stop, you can never corner it and hold it down and fix it to one of the Persons as if He could appropriate to Himself the fruit of the love of the others. For the One Love of the Three Persons is an infinitely rich giving of Itself which never ends and is never taken, but is always perfectly given, only received in order to be perfectly shared.

It is because the Love of God does not terminate in on self-sufficient self that is capable of halting and absorbing it, that the Life and Happiness of God are absolutely infinite and perfect and inexhaustible. Therefore in God there can be no selfishness, because the Three Selves of God are Three subsistent relations of selflessness, overflowing and super abounding in joy in the Gift of their One Life.

The interior life of God is perfect contemplation. Our joy and our life are destined to be nothing but a participation in the Life that is theirs. In Them we will one day live entirely in God and in one another as the Persons of God live in One another.

May 7, 2004 my personal reflection at St. Ignatius during Thomas Merton retreat are my faith and personal relationship with my Lord, Jesus Christ allows me to know of the Trinity of God but not to be able to explain it nor defend it, since only the Holy Spirit can say Jesus Christ is Lord, which that quiet voice has said for me in me and I have confessed publicly.

In Matthew 12vs25-30 Jesus Promises rest for our souls. And Jesus prayed this prayer; "O Father, Lord of heaven and earth, thank you for hiding the truth from those who think themselves so wise, and for revealing it to little children. Yes, Father, for it pleased you to do it this way! My Father has entrusted everything to me. Only the Father knows the Son, and the Father is known only by the Son and by those to whom the Son reveals him. Come to me and I will give you rest-all of you who work so hard beneath a heavy yoke. Wear my yoke- for it fits perfectly- and let me teach you; for I am gentle and humble and you shall find rest for your souls; for I give you only light burdens."

In Jon Martindale's poem "What is Man"

What is man, but God's perfect mold?

What is truth, but God's word told.

For in God's image man was made.

Also, please read for further reference Romans 8:5-17.

To be absent of God is to be in Hell.

The Spirit of God within each of us calls out Abba; Father and

He will help us even until our last breath on earth to know

Him sooner rather than later...The sooner the better. Our efforts should be to search for this truth to pass on and to establish a plumb line for the future generations to build-on. The common truth surely would help all to have a chance to know God now through His Son.

We can know the God of Truth as a Child or with Only Child-Like Faith. It only takes a little faith and we can be part of His Plan Now. Keep it simple and remember His Yoke is easy and direction of His Plan a child could follow. Let's try not to complicate it too much since we only have a little time to help. A third grader explains simple faith for us with just simple truth of a child.

A third grade homework assignment to 'Explain God'

"One of God's main jobs is making people. He makes them to replace the ones that die so there will be enough people to take care of things here on earth.

He doesn't make grown-ups, just babies. I think because they are smaller and easier to make. That way, He doesn't have to take up His valuable time teaching them to talk and walk; He can just leave that to mothers and fathers. God's second most important job is listening to prayers.

An awful lot of this goes on, since some people, like preachers and things, pray at times besides bedtime. God doesn't have time to listen to the radio or TV on account of this.

God sees everything and hears everything and is everywhere, which keeps Him pretty busy. So you shouldn't go wasting His time by going over your parent's head asking for

something they said you couldn't have. Atheists are people who don't believe in God. I don't think there are any in Chula Vista. At least there aren't any that come to our church. Jesus is God's Son. He used to do all the hard work like walking on water and performing miracles and trying to teach the people who didn't want to learn about God. They finally got tired of Him preaching to them and they killed Him. But He was good and kind like His Father and He told His Father that they didn't know what they were doing and to forgive them and God said OK."

Dear Lord,

So far today, God, I've done all right. I haven't gossiped, haven't lost my temper, haven't been greedy, grumpy, nasty, selfish, or over-indulgent. I'm very thankful for that. But in a few minutes, God, I'm going to get out of bed. And from then on, I'm going to need a lot more help. Amen.

We must work on becoming better listeners and learners from each other being careful of what we say and how we say it. We should follow James: 4vs11-12. Quit speaking against one another, brothers. He who speaks against a brother or judges his brother speaks against the law and judges the law. Now if you are a judge of the law, you are not a doer of the law. There is one that is a lawgiver and judge, who is able to save and destroy. But who are you to be judging your neighbor.

My personal journey started at the age of 10 but Christ carried me until 1987 at the age of 50 when I decided to get to know him better. In the summer of 1993 I wrote a personal discussion of faith to start my sharing with others. This paper is but an expansion of this to facilitate others to know the Son of God, Jesus Christ...

My final thought is we can expand our understanding of God's Love for us if we know His Son, Jesus Christ. In a recent speech by President Carter states a definition of Religions that I like and want to follow the rest of my Life. Your Religion is your personal search for the TRUTH AND ONCE WE THINK WE HAVE FOUND IT WE HAVE LOST OUR RELIGION. Those of us who know Jesus must reach out to others to facilitate sharing of this Faith and never judging where a person might be within that relationship, for the final salvation is a personal choice to follow The Path for all Eternity. Only God knows who has the circumcision of the heart and HIS SALVATION.

John4: 5-42 These verses are so rich to me . Some of these verses ,Jesus declared, "Believe me, woman, a time is coming when you will worship The Father neither on this mountain or in Jerusalem. You Samaritans worship what you do not know; we worship what we know, for salvation is from the Jews. Yet a time is coming and has now come when the true worshipers will worship The Father in Truth and Spirit, for they are the kind of worshipers the Father seeks. God is Spirit and his worshippers must worship in truth and spirit." The woman said,"I know when the Messiah" (called Christ) "is coming. When he comes, he will explain everything to us. "Then Jesus declared, "I who speaks to you am he." .They are the backbone of what I have come to believe and now the main purpose of 7ups e-mail weekly to give the Non-Church and The Churched the opportunity to worship God in Truth and Spirit thru reading His Word and Discovering the His Truth for each of us.


We must avoid final judgment of other but Love one another or at least try to follow the golden rule.


Also, I learned from the study of Paul's letters in BSF, what is it that will most enable us to maintain unity among believers? Clearly it is the recognition that the things we have in common are far more important than the things that do or might divide us. There are a number of matters on which we might differ, including even points of theology or matters of Christian practice. But if we seeking the truth as Christians and Believers in GOD, the points which we are united are far more important. That is why in the last verses of this paragraph Paul lists seven great unites: "There is one body and one Spirit-just as you were called to hope when you were called-one Lord, one faith, one baptism; one God and Father of all, who is over all and through all and in all" (Ep.4: 4&5) The first of three of these unites are centered around the Holy Spirit; the second of these are centered around the Lord Jesus Christ; the third is God the Father Himself. In other words, our unity is in God, whose own unity (the three persons of the Trinity) is our pattern. It is as Jesus said in His great prayer recorded in John 17, "I pray....that all of them may be one, Father, just as you are in me and I in you. May they also are in us so that the world may believe that you have sent me"(verses 20-21). Therefore, there can be only one Christian faith, hope and baptism, and only one Christian body. There is only one God-Father, Son, and Holy Spirit. If it were possible to split the church, then it would have to be possible to split the Godhead. In Is.8, 9 "For my thoughts are not your thoughts nor your thoughts, nor your ways my ways, say the Lord. As high as the heavens are above are above the earth, so high are my ways above your ways and my thoughts above your thoughts." In Roman 8:35, 37-39. "Who shall separate us from the love of Christ? Shall tribulation or distress, or persecution or famine, or nakedness or peril or sword? No! In all things we are more than conquerors through the One who loved us. We are sure that neither death nor life, angels nor principalities, nor things present, nor things to come, nor powers, nor heights, nor depth, nor anything else in all creation, will be able to separate us from the love of God in Christ Jesus our Lord."

From now on I want to concentrate on what can unify or facilitate unification of the UNITY OF GOD.

We probably at least have a common unity and perhaps focus on treating others, as we want to be treated, thus the Golden Rule or how we handle or learn from the handicapped.

Les Washington
7UP'S Inc. 6477 D Peachtree Ind. Atlanta, GA 30360
1-800-637-0495 Ext.777 Fax: 770-451-7758
Mobile/Voice Mail 770-330-7877 770-265-7777
E-mail: les7ups@aol.com, our7ups.hotmail.com. (Jon Martindale)
Les Washington and 7UPS Mission Statement: Board Meeting :
To provide and have faith and fellowship in our homes, communities, neighborhoods
anywhere in the world, at 7, on web sites, e-mail, or where two or more gather at a
Specific "never not meet location," networking with foundations, charities, churches,
other faiths that believes in a Creator, and projects that follow the "Golden Rule."
©2007 7Up's Inc